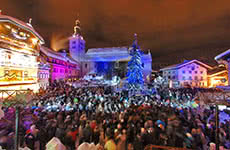 Baroness Noémie de Rothschild put Megeve on the map back in the '20's as a French equivalent of Switzerland's über posh St Moritz... nowadays, it's grouped with St Moritz in the prestigious 'Best of the Alps' group alongside other alpine legends like Kitzbühel and Chamonix. While the Mont d'Arbois and Mont Blanc massif is a sight for the eyes in itself, this old market town is brimming with traditional alpine charm. Car-free, cobbled streets surround the main square with its medieval church and hors...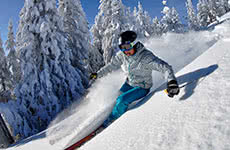 Children are very well catered for with several kids clubs at the bottom of the Rochebrune, Princesse, Jaillet and Mont d'Arbois cable cars and at the top of the Chamois station. The Evasion area has over 40 green pistes, meaning lots of variety for beginners and there's no being left to get the gondola down at the end of the day while others squeeze in one last run - you can ski greens down to the Mont d'Arbois, Jaillet and Rochebrune base stations. Mont d'Arbois is the perfect place to start: the lovely ...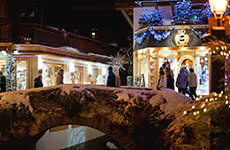 Club de Jazz Les Cinq Rues is probably the most famous venue as it's one of the biggest jazz clubs in France. While it's expensive, it's said to have the best music in town and has hosted huge names in the jazz world. Les Caves is another popular option for a cocktail or two in a sophisticated, jazzy atmosphere. If you want something Megevan through and through, the Lodge is a cosy bar with stylish log tables and comfy leather sofas. Bar des Alpes has WiFi and a nice sun terrace. For later on in the evening...