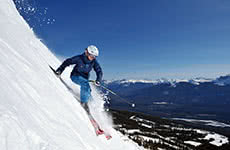 Tucked away in the inner reaches of the Canadian Rockies, Jasper town and the Marmot Basin ski area take first prize in any natural beauty contest. Elk, deer, lynx, and even the odd wolf roam free in the 11,000 surrounding sq km of the National Park (bigger than Banff, Yoho and Kootenay, the other Rocky mountain parks combined), and can often be spied early in the morning and late at night taking tours of the town. Officially starting life as a railway outpost in 1907, Jasper town doesn't seem to have chan...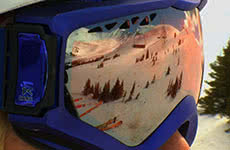 Dotted with mule deer and mountain goats, there's a tastily wild, unchartered feel to the skiing in Marmot Basin, where four mountain faces of dry Canadian powder combine to a respectable 200km of pistes and 86 runs. Whatever your level, this area has it all: long, winding groomers, alpine bowls, steep chutes and picturesque glade runs, split evenly between greens, blues and blacks (note: our friends across the pond don't do reds, just black diamonds and double diamonds). The names are pretty indicative o...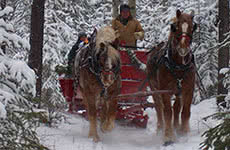 A good deal of your time will be spent stopping and staring at this area's ridiculously dreamy views, which will have you hooked in minutes. Fortunately, many of the non-skiing highlights here involve striking out to find your next visual fix, like the Malign Canyon Ice Walk, taking you Canyon Crawling through deep natural limestone gorges, and past towering frozen waterfalls before venturing into glacial caves. Snowmobiling and husky sledding let you get stuck into all those trees, while excursions further afi...