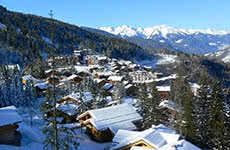 Nestled in the forests between Courchevel and Meribel offering excellent access to both resorts, La Tania is known as the Three Valleys' best-kept secret. Proud to be eco-friendly, the resort facilities are powered by a hydro-electric system and has a car-free centre. Despite its modernity, the village has been designed in-keeping with traditional wooden Savoyard architecture, integrated amongst the beautiful forest scenery. The local businesses are mostly Brit-owned, but visitors can still find very French si...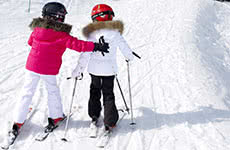 Long green, blue and red tree-lined slopes overlook the village, and the Three Valleys provides a ginormous amount of opportunities for all different abilities. You can make your way over to Courchevel and Meribel on skis alone. There is a wide range of ski and snowboard schools offering group and private lessons for all ages. There are gentle green runs for novices from the top of the gondola all the way back down to the centre. The blue run 'Folyères' on the other side of the lifts is a great place to de...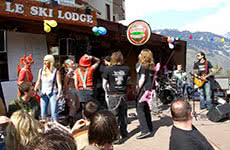 After a day on the slopes, La Tania is a peaceful base to unwind in. The atmosphere is mostly quiet and relaxed, but some après fun can be found. Le Bouc Blanc is a popular restaurant at the top of the gondola from the village, ideal for relaxing in the sun with a drink on a deckchair. Great value for money, prices are a fraction to those in other places. Pub Le Ski Lodge attracts most of the nightlife, hosting regular live music performances and themed nights. The crowds gather for happy hour, and they air the...