You've just had an amazing day on the slopes, and your fingers are feeling the cold… What better than a steaming mug of spiced wine from the nearest mountain hut? Only ever a hop, skip and ladle away in any ski resort, there are all kinds of hot wines around the globe. We've mulled over our favourite recipes, from all skiing nations, to bring you the much-loved après drink in its many forms.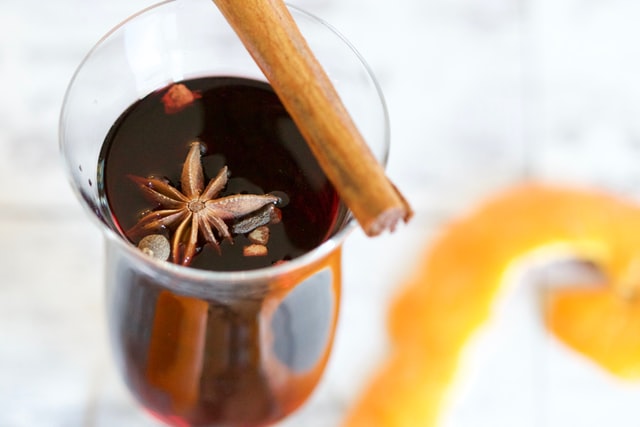 Mulled wine around the world
Austria goes gaga for Glühwein
Meaning 'glowing wine,' Glühwein is a steaming staple drink of ski resorts and Christmas markets nationwide.
Classic ingredients:
Juice of 1 lemon
50g sugar (or to taste)
3 Cloves
1 Cinnamon sticks
1 orange (sliced)
1 bottle of wine (make it a bottle of Blaufränkisch to keep the whole thing Austrian).
Italy brews bellissimo Vin Brule
Meaning simply 'mulled wine.' The Italian version of the hot drink is especially welcome in the northern mountains and has become the symbolic product of Christmas markets.
Classic ingredients:
1 pinch nutmeg
50g sugar or honey (or to taste)
4 whole cloves
2 cinnamon sticks
Zest of 1 lemon & 1 orange
Juice of 1 lemon
1cm piece of ginger
1 bottle of wine (something full bodied and fruity, like a Piedmont Nebbiolo).
Optional: dash of Amaretto
Norway does glugs of gorgeous Glogg
The name comes from 'glödgad vin' = glowing, hot wine. The 2 main differences from a traditional mulled wine recipe are Aquavit and cardamom. Served with a spoon.
Classic ingredients:
Peel of 1 orange
Handful of raisins
10 cardamoms pods (cracked)
5 cloves
5cm piece of ginger
Handful of almonds (Blanched in boiling water for 60 secs and skin removed)
1 cinnamon stick
50g of sugar or honey (or to taste)
Large dash of Aquavit (or port, brandy, Sherry)
Bootle of red wine (a dry red, like a Svenska from neighbouring Sweden).
France says Vive la Vin Chaud
Vin chaud simply means 'hot wine'. The French version includes an extra touch of magic (a dash of cognac or brandy), often enjoyed with shortbread biscuits.
Classic ingredients:
1 stick of cinnamon
Half an orange (sliced)
Half a cup of orange juice
50g of sugar (or to taste)
2 cloves
2 cardamom pods
2 star anise
Dash of brandy or cognac
Bottle of wine (go for a good old red vin de France).
Slovenia snuggles up with mugs of Kuhano Vino
Simply means 'cooked wine.' It's a staple in Slovenia, using honey instead of sugar.
Classic ingredients:
Peel of 2 oranges and oragane slices for garnish
1/4 cup honey
1/2 tsp. grated nutmeg
4 star anise
10 whole cloves
10 black peppercorns
1 bottle of wine (there are some super Slovenian Merlots like Quercus).
Finland has glorious Glögi
There's no better way to warm you up after being out in the snow all day. Finland's Glogi, meaning 'glow wine,' is extra fruity and delicious. The Finnish add in blackcurrant juice and dried berries (optional) and sometimes is served with a spiced cookie.
Classic ingredients:
2 cinnamon sticks
4 cloves
3 cardamom seeds
2 star anise
Peel of half an orange
1 litre of blackcurrent juice (or another berry juice will be fine)
1 bottle of wine (maybe a Scandi merlot).
Optional: dried berries, blanced almonds, dash of port
Traditional mulled wine recipe
There's no ready-made mulled wine in the supermarkets right now, so throw these trad' spices into a bottle (or two) of red, simmer up and sip away!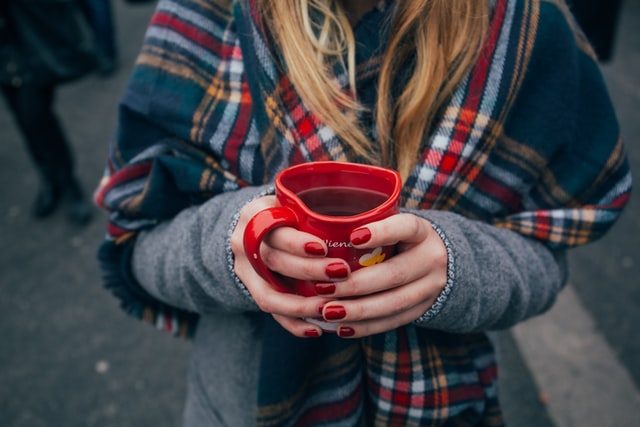 Vanilla pod

½ tsp grated nutmeg

1 c

innamon stick

Orange studded with cloves

2 lemons, sliced up

2 star anise

50-100g caster sugar (to taste)

Optional: 1 cup or 2 of orange juice
Optional: Dash of Amaretto