Are you an adrenaline junky on the hunt for the most extreme ski runs this season? Or just looking for a new challenger? Here are the top 10 black runs in the Alps to tick off your bucket list.
A black run is the hardest ski rating that you'll find in Europe, after green, blue and red runs. Only expert skiers and snowboards should tackle this steep and tricky terrain.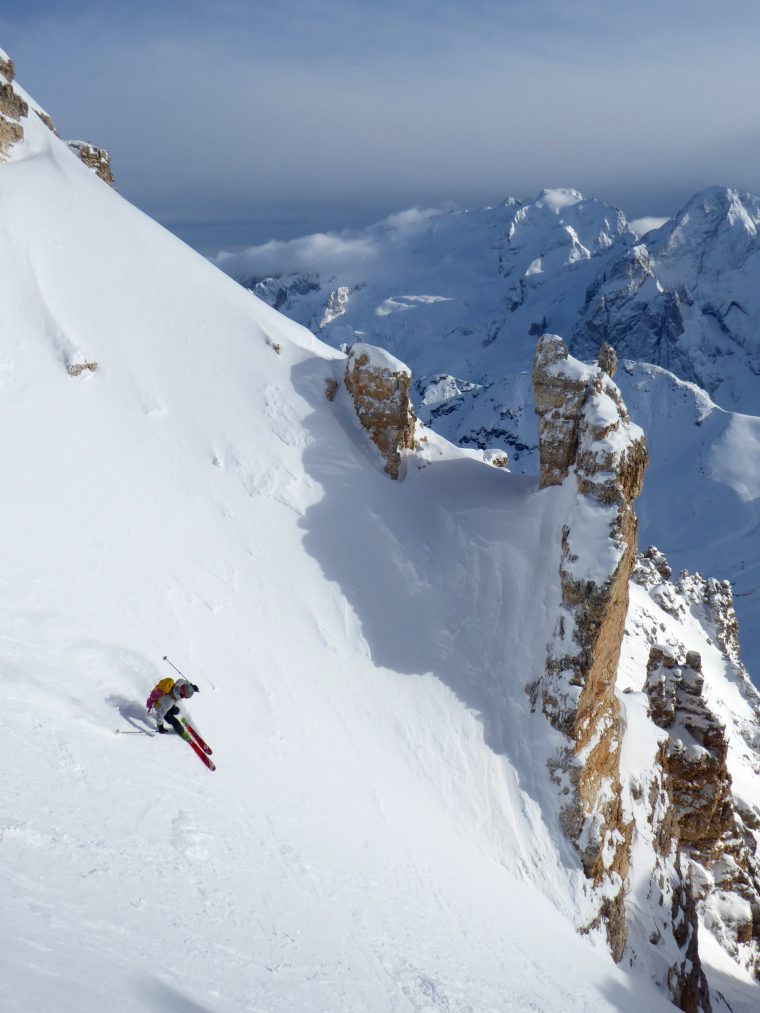 Best black ski runs
1. La Face, Val d'Isère
La Face entered the hall of fame in the 1992 Winter Olympics, when just 0.1 of a second separated the top three places of the men's downhill. It's eye-poppingly steep and those moguls can become mightily monstrous. Thank heavens La Peau de Vache is halfway down for some encouragement (of the chocolatey kind in form of their mousse, or of the Dutch courage kind in form of genepi!) Find out more about Val d'Isere.
Reward yourself with: A jaunt up to La Daille for some mountain madness at Folie Douce.
2. Harakiri, Mayrhofen
Austria's steepest slope, the Harakiri in Mayrhofen has a sharp average incline of 78% and is endearingly named after a type of Samurai ritual suicide. Number 14 on the piste map, the piste is marked with a skull and crossbones to signify its toxic nature. The whole thing's covered by snowmaking (as are the rest of Mayrhofen's pistes) and if you ski it on a Friday afternoon and they usually have a photographer to capture the moment after 1.5km of thigh-burning turns.
Reward yourself with: Generous glugs of Glühwein at Pilzbar.
3. Inferno, Murren
Clocking up almost 15km, Murren's black #10 forms one of the longest runs in Switzerland. Starting at a heady 2900m, it features a crazily narrow gully, several flat sections and some slight inclines – before ending up in Lauterbrunnen at 800m. It has history: A posse of ski mad Brits decided to make the world's craziest ski race here in 1928, and sections of the run were used in 007's storm down from the Schilthorn in On Her Majesty's Secret Service. Hats off to anyone who skis the whole thing in under 40 minutes.
Reward yourself with: A ride back up to the top of the Schilthorn for a Bond-themed feast and fine views of the Jungfrau peaks.
4. La Chavanette, Avoriaz
Starting on French land and dropping down the Swiss side, border-hopping doesn't get more dramatic than The Swiss Wall in Avoriaz. At a pitch of over 50 degrees it's one of the steepest descents in the world – stand at the top and you find yourself peering down into the abyss. In powder conditions, this is a beauty but its alter-ego is a devilishly icy mogul field, so make your prayers to the snow gods accordingly.
Reward yourself with: A filling fondue at Champery's Restaurant Le Toupin.
5. Saslong, Selva
Saslong's the second-longest run in the World Cup circuit, and has been since 1969 (they're currently prepping it for this year's Super-G on the 18th – 19th December). Beginning at Ciampinoi above Selva, it shoots down 3.5km into diddy St. Christina. Steeps are followed by flats, followed by steeps… And you can grab some serious air if you've picked up enough speed. After hurtling over the notorious 'Camel Humps' it's onto extreme turns at the Ciaslat passage – where racers either come out tops or get defeated.
Reward yourself with: A spot of La Dolce Vita at St. Christina's Café Andy – gobble cake and sip spritz 'til suppertime.
6. Grand Couloir, Courchevel
GC's the only one of Saulire's trio of couloirs that appears on the piste map (the others are too hairy for markers) and you need Mother Nature on side for it to even be open. Merely getting to the top brings up goosebumps, with an icy ridge to edge along for starters. Then after a steep, uneven, rock-edged chute, it opens up into a mogul-ridden powder field, where the descent gradually eases up with (slightly) kinder bumps. Find out more about Courchevel.
Reward yourself with: A Dom Pérignon Jeroboam at Les Caves or a good old beer at Le Bubble.
7. Forcella Staunies, Cortina
Streaming down from 3000m, Forcella Staunies was built for the 1956 Winter Olympics as a backup slope in case of low snow-cover on other pistes – put simply, it's spectacular. Set off on the 3km descent and you soon come across the steepest stretch of piste in all the Dolomites: Its narrow track has a 64% gradient and is flanked by huge walls of craggy limestone rock. Find out more about Cortina.
Reward yourself with: Some snazzy new ski gear from Corso Italia's posh shops.
8. La Sarenne, Alpe d'Huez
Beginning at 3330m on the top of Pic Blanc and following a thigh-testing 16km, La Sarenne is the longest black run on record. Before you ski it, get an eyeful of the never-ending peaks that surround (including Mont Blanc, the Aiguilles d'Arves and Muzelle). Then you're off via an initially steep drop, which soon opens into a wonderfully wide trail. Unlike its terrifyingly technical neighbour Le Tunnel, this one's all about endurance – after meandering through the Gorges de Sarenne, things get so smooth they could almost be classified green. Find out more about Alpe d'Huez.
Reward yourself with: La Combe Haute's terrific tartiflette.
9. Mont Fort, Verbier
Even if you strictly stick to blues, it's worth heading to the top of Mont Fort in Verbier just for the sights: On a bluebird day, you can spot the Matterhorn in one direction and Mont Blanc in the other. For those who are tackling the descent, the hardest part's the narrow drop in. First, you have to pick between the steeper right-hand side (about 38 degrees) and the bumpier section on the left. Then you've got glorious moguls as far as the eye can see.
Reward yourself with: A drink or 10 at Farinet bar.
10. Sache, Tignes
Tignes and Val d'Isere's longest – and in fact one of the longest on the continent – Sache starts at L'Aiguille Percée (home to the 'eye of the needle') and dives down the mountain for a good 10km into Les Brévières. Pick it at the right time (first thing in the morning after an overnight dump) and it's yours to storm. Pick it at the wrong time and the narrow chute on the second half is like Piccadilly Circus (if you can imagine Piccadilly Circus being knee-knockingly mogulled).
Reward yourself with: Even more adrenaline, in the form of the Bun J Ride which combines ski jumping, bungee jumping and a zip wire.
Find out more about the best ski resorts for expert skiers and snowboarders