While we all navigate our way out of lockdown and familiarise ourselves with the 'new normal', the ski industry has been busy preparing ways to make your next ski holiday as seamless and safe as possible. We'd therefore like to introduce you to a brand-new concept being introduced to the ski market for the winter 21/22 season – the contactless chalet. Contactless catering is a new phenomenon, enabling you to have the catered chalet experience without the chalet staff present for six nights. Alternatively, if you wish to book on a self-catered basis, there is flexibility to do this as well.
Leading the way with the contactless chalets is the fantastic French ski specialist, Ski France. Ski France boasts over 50 contactless chalets featured in some of the most renowned resorts the French Alps, including Courchevel, Meribel, La Tania, Les Menuires, Tignes, Val d'Isere, Alpe d'Huez and La Plagne. We have seen a significant increase in bookings for the 21/22 season and we're very excited to show you what's in store for next season! Give our friendly, knowledgeable travel specialists a call on the above number to find out more.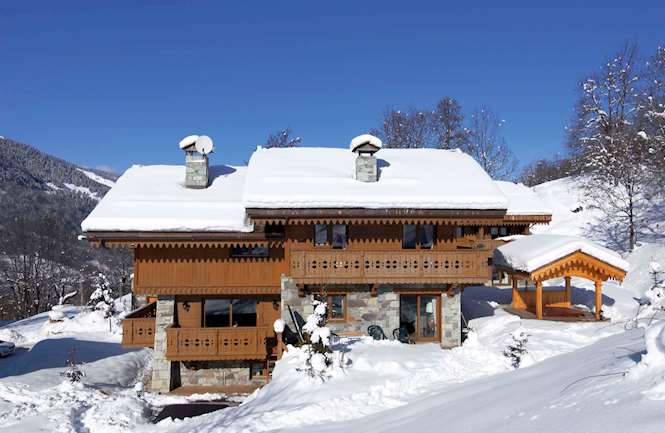 What is a contactless chalet?
The contactless chalet concept is similar to your standard chalet package, but with no chalet staff present to prepare and serve your meals. Instead, you will arrive at your chosen chalet with a fully stocked fridge and larder brimming with fresh ingredients and beverages. The meals are easy to cook with very minimal culinary input from yourselves. All that will be required is popping the specially prepared dishes into the oven and boiling some vegetables for sides.
Expect ready-made beds, fresh towels, bathrobes, and slippers. During the week while you're out gliding down the mountain or cutting some shapes at après, your Ski France concierge team will clean your chalet, make your beds, and restock your towels and fridge. What more could you want?
What is included with a contactless chalet?
You have two options with your contactless chalet package, Classic or Premium. Both packages include various ingredients required for breakfast, afternoon tea, a three-course dinner for six out of seven nights, plus some beers and unlimited red and white wine.
Classic contactless chalets are perfect for those looking for a budget-friendly ski holiday in more affordable accommodation. The chalets are dispersed across leading ski resorts in Europe and come with a fully stocked with food and beverages.
Premium contactless chalets are a more luxurious range of chalets spread located in some of the top resorts in Europe. Guests can enjoy high-quality produce of food and drink, all eagerly waiting for you upon arrival.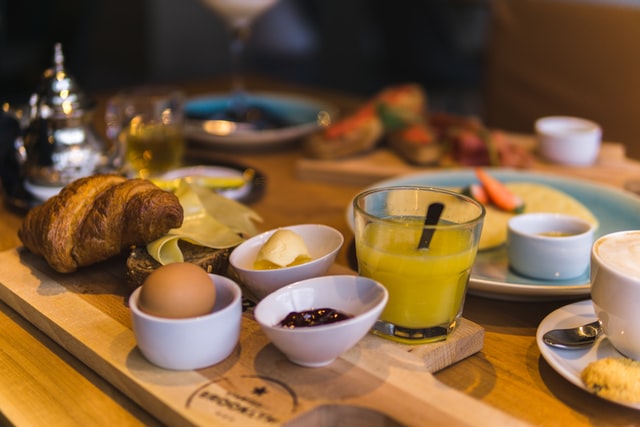 Our favourite contactless chalets
Here's some of our favourite contactless chalets with Ski France:  
Chalet Etienne in Meribel – a 15-person chalet, nestled in the popular neighbourhood of Meribel Village. The open plan living and dining space is perfect for large groups relaxing together after an extraordinary day exploring the 600km of slopes in the magnificent Three Valleys ski area. Bask in tranquillity and witness stunning vistas in your own private outdoor hot tub and barrel sauna.
Chalet Alpinium 1 in Tignes – featuring 7 bedrooms and sleeping up to 14 people, this charming treat is located in Tignes Les Boisses (Tignes 1800), right on the edge of the pistes. The stylish chalet is spaciously spread over four storeys, with stairs and lift access, and has its own hot tub, sauna and wellness area for that added touch of indulgence needed after a long day's skiing. Chalet Alpinium 2 next door sleeps up to 8 guests.
Contactless chalet sample menu
The contactless catered service offers a more effortless ski holiday experience. Meals are made by local Savoyard delicatessens so that you can guarantee fresh and tasty dishes during your stay. Breakfast includes tea, coffee, juice, cereals, choice of eggs, bacon and yoghurts, bread, croissants (in premium chalets) and jam. Afternoon tea includes a selection of biscuits, mini cakes and fruit. Finally, dinner includes nibbles and a delicious chalet-style 3-course meal.
To learn more about this innovative, new service, we tried the contactless catered dinner for ourselves.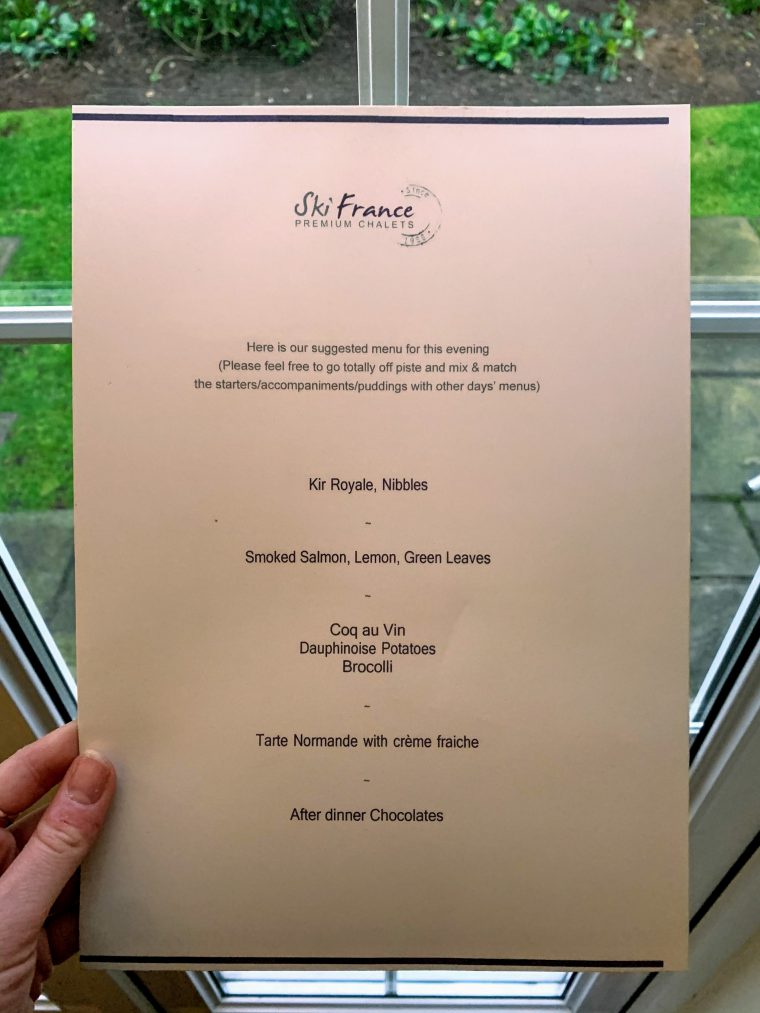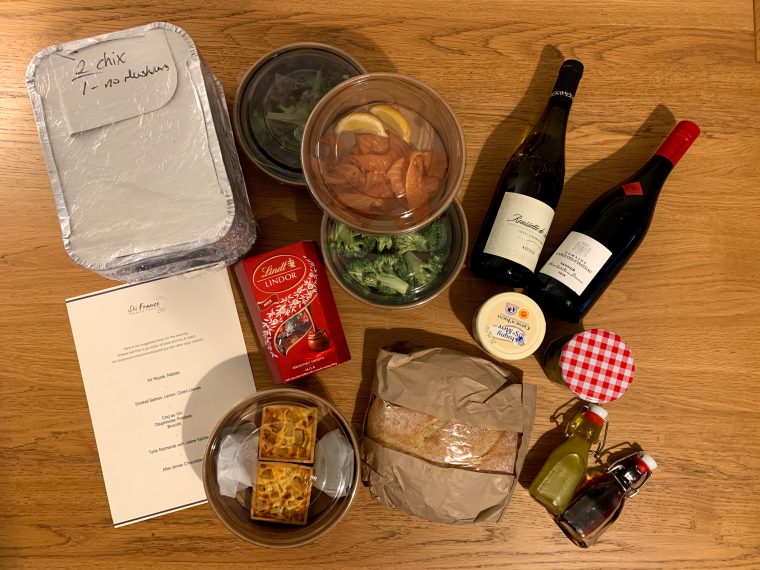 Starter: Smoked salmon, lemon & green leaves
Ingredients: Smoked salmon, salad leaves, a loaf of crusty bread, salad dressing, white wine and Creme de Cassis (for Kir Royale aperitif)
Instructions: We like lashings of lemon juice and lots of cracked black pepper on our smoked salmon which can be served with green leaves and our French vinaigrette. Bread is always a welcome accompaniment.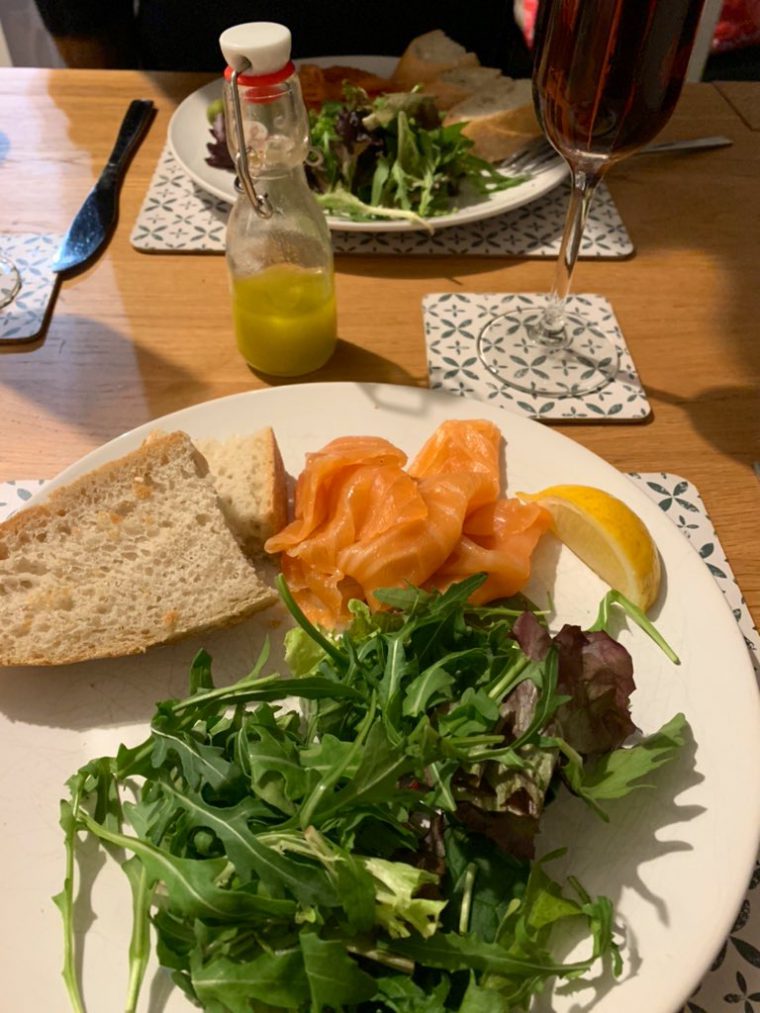 Main: Coq au vin, dauphinoise potatoes & broccoli
Ingredients: Chicken in foil tray x 2, potatoes in foil tray and broccoli.
Instructions: Turn the oven on to 200°C. Pop your dauphinoise in the over for 30-40 minutes, until it is hot all the way through. We like to grill them for the last 5 mins to get the top all nice and crispy. Decant your ready-made coq au vin into a large saucepan, put on a low heat with a lid on and heat through so that it's all piping hot. This might take about 15-20 minutes. For the broccoli, bring a large pan of water to the boil. Cut up your broccoli into even size piece and cook them for 4 mins. Drain well before serving.
Dessert: Tarte Normande with creme fraiche and after-dinner chocolates
Instructions: Your Tarte Normande is ready to go. You can either serve at room temperature or warm it in the over for 10-15 mins at 180°C. Serve with creme fraiche.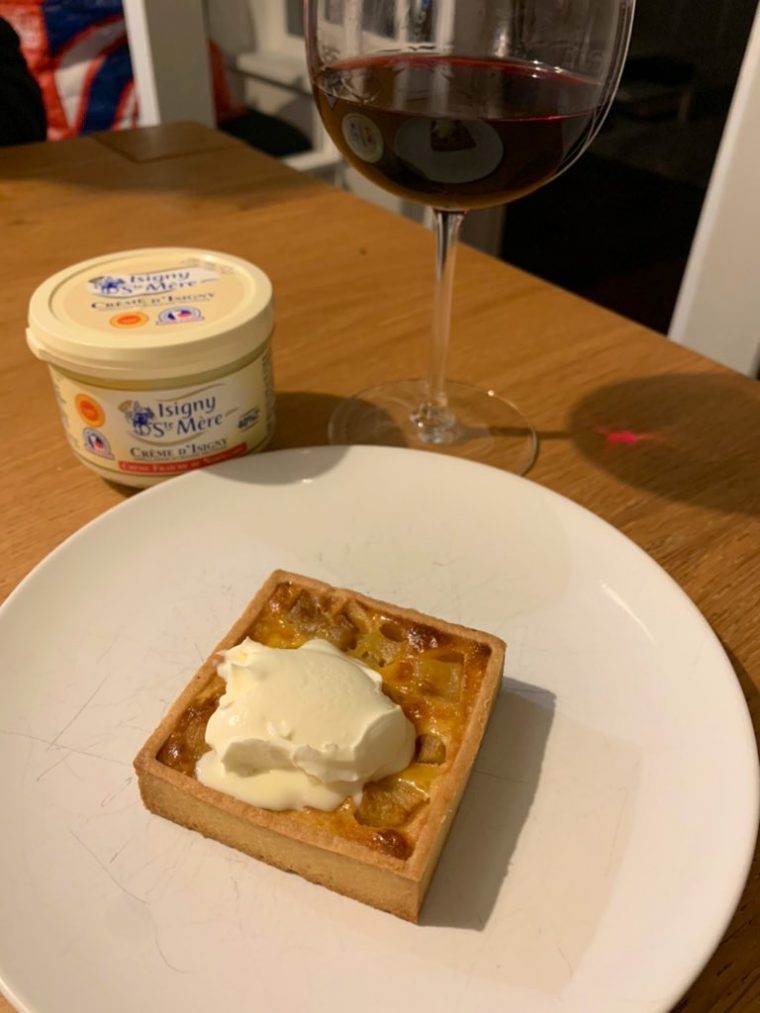 Wine: 1 bottle of white and 1 bottle of red
Instructions: Don't forget the all-important wine to wash it down. We suggest a crisp white wine from Savoie, Altesse to go with the smoked salmon followed by a medium-bodied red from the Loire Valley, Saumur to go with the coq au vin.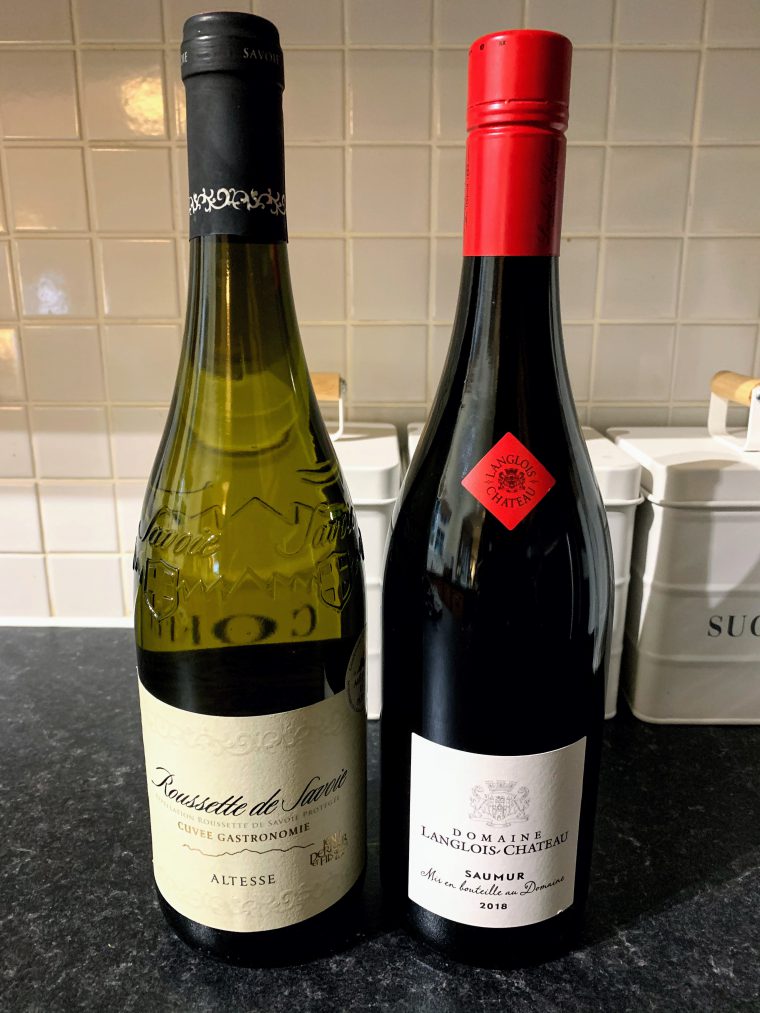 Our verdict on contactless chalet catering
Here's what the team had to say after we tried out the contactless catered dinner:
"My family loved the classic and hearty choice of dish and the process of making it was so easy." – Richard
"I loved it so much, I thought the food was so good – especially those potatoes!! I'm all for the contactless catering. I enjoy the idea of cooking to your own schedule and having dinner at a time that suits you." – Natalie
"I enjoyed the choice of dishes and wine – this is the kind of menu that I would like on a ski holiday. The ingredients and prepared meals were of high quality and very delicious. The food was quite different from the ready-meal-style food I was expecting. The coq au vin and dauphinoise potatoes were incredible – even the salad dressing was really tasty (I wish I had the recipe!) I love the idea of being able to choose your mealtimes and having more privacy in your chalet. The aperitif, nibbles and after-dinner chocolates are a lovely touch." – Krystelle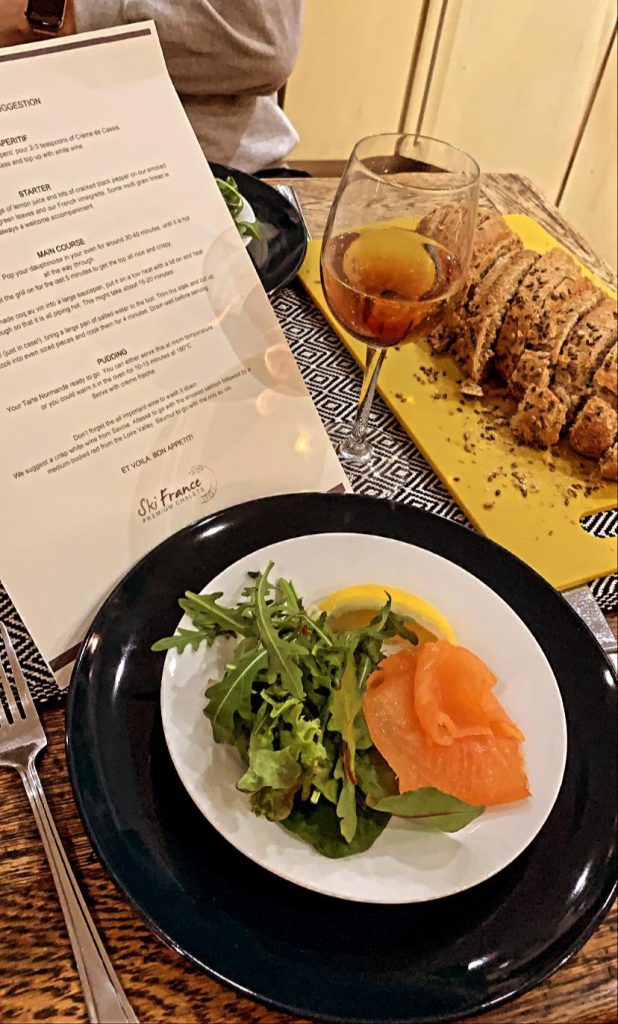 Read our contactless catered chalets page for more information about this new service and more sample menus. Browse contactless chalets and prices of Ski France holidays or speak to one of our ski experts to find out more about the best chalet for you.