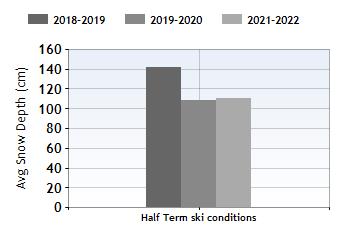 Vail Half Term holidays


February half term is one of the best times to head to Vail. This is one of the most popular resorts for US citizens, but as the American schooling system doesn't have half term, you're likely to find that it's quieter than many of its European equivalents. Coupled with this, the snow later in the season is usually astounding, as its altitudes between 2,400m and 3,500m allow for favourable snow conditions for longer. If you check out the north facing slopes on the Frontside or Blue Sky Basin, you're more likely to find better snow as the sun will stay off the mountain for longer.
The ski school here is world class; with 160 instructors trying to ensure the best possible service and speaking a variety of languages, you're sure to find a coach suited to your family. If they're too young to ski or just don't fancy it, why not enrol them in the play centre or hire a baby sitter to let you explore the ski area, relax in a spa or wander about town.
If you fancy skiing with your kids after ski school, or don't want to enrol them, the vastness of the ski area will keep you all exploring late into your holiday. For beginners, many easy greens can be reached from the top of Avanti Express Lift, and you can get the whole way down to the villages from here for a super long meander. If your party is a little more experienced, try the blues from the top of Eagle Bahn Gondola, or if you're feeling daring, try one of the easier black diamonds; ask any of the mountain staff for which is suitable. Riva Ridge is a great example, a blue with stretches of black diamond – watch out for the aptly named steepest section, the Tourist Trap.
The Adventure Ridge is the perfect place to head without the skis, with its tubing, kids' snowmobiling and ski biking sure to excite and tire everyone out. Alternatively, try one of the free activities that Vail has offered in the past, such as Astronomy on Vail Mountain or Nature at Night, both informative and fun.
February Half Term snow & skiing conditions in Vail
Half Term Snow History
Top alt:3,527m
Average snow depth
Half Term122cm
Bottom alt:2,476m
Average snow depth
Half Term118cm
Resort alt:2,476m
Half Term ski rating

Widen your search: