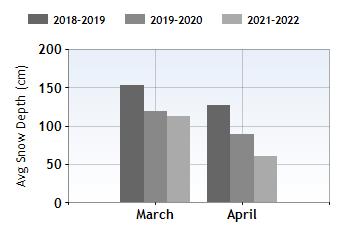 Vail Easter holidays


Many find Easter the best time to ski Vail - with its slopes between 2,476 and 3,527 metres, this resort is very high, making for generally better snow than many lower resorts as it keeps the temperature down for longer. Thanks to a huge average snowfall of 9 metres, Vail is also likely to have laid a very reasonable base layer by Easter, again allowing for skiing later in the season. Couple this with an average of over 300 sunny days a year and you can see why the snow and sun keep people coming back for great tan lines and fantastic skiing.
Off the mountain, there are usually events organised to see the season out in style. In the past few years, the town has put on an event called "Spring Back to Vail", a huge festival of fun celebrating the prior season and the coming of summer. Previous events have included free concerts with names such as Sublime With Rome and the Thievery Corporation, parties in the numerous bars around town and the acclaimed World Pond Skimming Championships - an event in which athletes attempt to ski from one end of a stretch of water to another. If you're looking for something with a more festive feeling, there's often a free Easter egg hunt available for the younger ones (and young at heart) in Lionshead.
Easter snow and skiing conditions in Vail
Easter Snow History
Top alt:3,527m
Average snow depth
Mar/Apr131cm/93cm
Bottom alt:2,476m
Average snow depth
Mar/Apr125cm/90cm
Resort alt:2,476m
Easter ski rating

Widen your search: