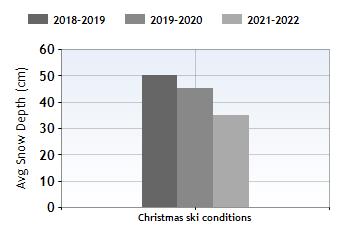 Baqueira Beret Christmas holidays


Christmas and snowy mountains is a winning combination, and Baqueira knows how to do it. With a remarkably strong snow history (181cm in December 2013), huge sections confidently above 2000m and over 600 snow cannons operating across the 99 runs, even this early in the season it's a safe bet you'll find good snow here. Better yet, this neck of the woods tends to get a lot more sunshine and has an extra hour of daylight, which can make a huge difference at this time of the season.
As for Christmas activities, Baq's stocking is usually filled to the brim. Try ice skating at the rink down in Vielha, or take a trip out in to the valley in your own sleigh. One of the main traditions (and something children will absolutely love) is that Santa himself arrives a 12-husky-drawn-sleigh to bring presents and good cheer to the valley.
It wouldn't be December 25th without a meal to end all meals, and while the Aran valleys distinct blend of rustic local produce and French cooking style might not be the most traditional Christmas dinner, it's world-renowned for being delicious, hearty and warming- just what you need mid-winter!
Christmas snow and skiing conditions in Baqueira Beret
Christmas Snow History
Top alt:2510m
Average snow depth
Christmas53cm
Bottom alt:1500m
Average snow depth
Christmas33cm
Resort alt:1500m
Christmas ski rating

Widen your search: