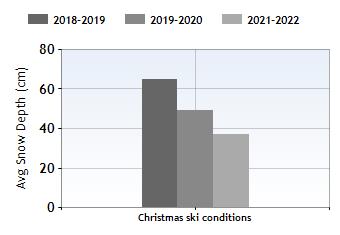 Kranjska Gora Christmas holidays


Kranjska Gora's a sight for the eyes at any time of year, but even more so over the Christmas period. In recent years, a local highlight has been the live Christmas Nativity Scene set inside the frozen waterfalls of Mojstrana - this usually takes place between Christmas and New Year and has always been spectacular. After the show, nothing beats exploring the caverns and winding through jets of water and frozen waterfalls. If you're with little 'uns, Santa usually drops in for a visit sometime between the start of the season and before his all-important present delivering duties begin...
To get you feeling more festive than a Christmas jumper, look out for carol services in the churches of Kranjska Gora, Podkoren or Rateče for a traditional event set amidst a blanket of crunchy powder.
Despite low altitudes and early season weather worries, Mother Nature is on side here - most pistes have a grassy base (as opposed to rock) and are protected by tree lines on both sides. Plus, snow making technology is on hand on 70% of pistes to top up the powder if need be.
Christmas snow and skiing conditions in Kranjska Gora
Christmas Snow History
Top alt:1,295m
Average snow depth
Christmas69cm
Bottom alt:800m
Average snow depth
Christmas32cm
Resort alt:810m
Christmas ski rating

Widen your search: