Easter in Lapland


While the snow is melting away elsewhere and the UK is full of the joys of spring, it's still winter in Lapland which makes Easter a great time for a holiday.
By Easter, the days in Lapland are nice and long so you can really make the most of the region.
The Easter skiing is usually terrific - unlike some of the Alps at this time of year, slush is a rarity here - the cold temperatures keep it at bay and preserve cracking skiing conditions late into the season. While the temperatures are still low enough to keep the slopes in good nick, the weather is traditionally much milder than you get in December and January so you can really make the most of outdoor activities like tobogganing, husky-sledding and reindeer safaris.
In late March and early April, you can usually see the King's Cup - the grand finale of Lapland's reindeer-racing season, where the race around the frozen lake is good fun to watch. There's a tradition of scheduled music events over Easter in Ruka, tied in with activities such as helicopter flights, dance lessons, events in some bars and egg hunts for children, all to celebrate Easter or "Paasiainen". You might even get to witness the Easter tradition "Virpominen", where young children dress up as Easter witches offering willow twigs for treats.
To make the most of being in Lapland, you have to taste some Lappish seasonal delicacies. Mammi is an Easter pudding a bit like porridge and Pasha is a creamy, sweet dessert. Lastly a heads up if you're planning on treating the kids to Easter eggs - in Finland these are delivered by a cockerel not the bunny!
Easter snow and skiing conditions in Lapland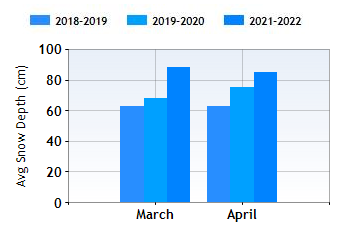 Easter Snow History
Top alt:720m
Average snow depth
Mar/Apr80/81cm
Bottom alt:200m
Average snow depth
Mar/Apr65/67cm
Resort alt:200m-720m
Easter ski rating