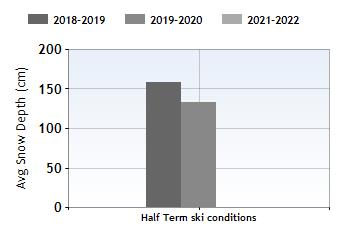 Lake Louise Half Term holidays


Though getting to Lake Louise involves a little extra effort than a typical jaunt to the Alps, it isn't hard to see why so many choose to make it. The iconic Fairmont Chateau, for one thing, in many ways a resort in its own right, usually has activities like photograph competitions, night time snowshoe excursions, and in-house childcare making it impossible, young or old not to enjoy yourself. This resort is nestled in an area of such immense natural beauty - all gripes relating to the daily grind feel far, far away.
First-time skiers are expertly cared for in Lake Louise's super high ski area, where the Minute Maid Adventure Park and Sunny beginner's area provide the gentlest of introductions to the snow. Then there's the wide Wiwaxy run, specifically for beginners, where they can practice what they've learned at ski school without the deadly fear of being cut up on the piste. The terrific thing about this ski area is that there's a run of each difficulty from each station, letting everyone ski comfortably at their level and re-group up at the lifts.
February Half Term snow & skiing conditions in Lake Louise
Half Term Snow History
Top alt:2,637m
Average snow depth
Half Term153cm
Bottom alt:1,646m
Average snow depth
Half Term138cm
Resort alt:1,646m
Half Term ski rating

Widen your search: