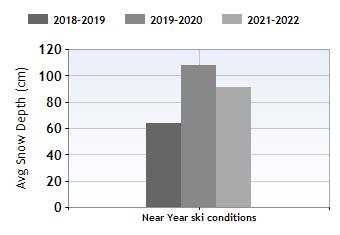 Jasper New Year holidays


If you intend to start the year as you mean to go on, you could do a lot worse than skiing in the New Year on the Rockies' legendary dry powder, and spending your downtime wining and dining in Jasper, where the mood's infectiously friendly.
On New Year's Eve, this rustic town will never out cheer nearby Banff, but there are tonnes of events where you can make merry with the locals. The De'd Dog and Whistle Stop Pubs annually throw a big bash, while family and adult-only parties are usually the order of the evening in the hotels. The Fairmont's known for the biggest in both categories, and if this year's anything like the last, you'll find acrobatic entertainment, face painting and a special guest DJ in the Beauvert dining room to make the evening special for kids. The Moose's Nook here, meanwhile, lets adults enjoy 5 delicious courses while someone talented tinkles the ivories, before spilling into the ballroom for a wine and martini waving countdown. If you're lucky enough to be staying here, you'll then wake up to a New Year's Day buffet brunch with delicacies from across Canada.
Then, of course, there's the snow: thanks to one the highest elevations in Canada, Marmot Basin has one of the longest ski seasons around and lifts that open at the beginning of November, so there should be a fantastic build-up of snow come New Year's week.
New Year snow and skiing conditions in Jasper
Near Year Snow History
Top alt:2,612m
Average snow depth
Near Year97cm
Bottom alt:1,698m
Average snow depth
Near Year78cm
Resort alt:1,698m
Near Year ski rating

Widen your search: