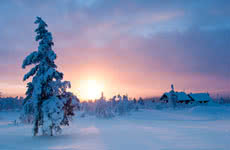 Europe's northernmost ski resort, Saariselkä is 250km up from the Arctic Circle, not far from the Russian border. One of the main resorts in Lapland – the legendary home of Father Christmas – it has snow-sure skiing, a Christmas-card-esque village and heaps of festive activities all in one place. The village itself is surrounded by forest and full of winter wonderland charm, with its own little chapel, some shops and restaurants and accommodation ranging from spa hotels to traditional log cabins. Everythin...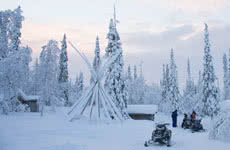 Spread across the Iisakkipää and Kaunispää fells, the ski area is modestly-sized, with 6 ski lifts taking you up to 15 slopes. The bus is quite regular and does drop-offs at the top of the slopes and the base. From the base, one chairlift takes you to the top of Kaunispää (the rest of the lifts are T bars). All pistes take you back to the same part of the valley, where you'll find campfires and cafés to warm up and rebuild your energy stores. This isn't a challenging ski area and the slopes would best...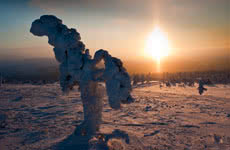 With only 15 slopes, this isn't meant to be a resort where the sole focus is skiing and there are tonnes of other activities to fill up the week. Snowmobiling, reindeer and husky safaris really are as fun as they look and all are a great way to enjoy the surroundings. For something a bit different, try your hand at ice fishing or follow one of the more well-trodden snowshoe route. Even better, 15 minutes away by road is Santa's resort, Kakslauttanen for a once in a lifetime meeting with the man himself. Fro...