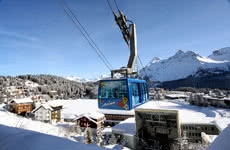 Arosa is high in the German-speaking canton of Graubünden, where you'll also find the resorts of Davos and Klosters. The transfer from Zurich is doable by coach or rail: opt for the latter at least once as it includes the famous mountain train from Chur. It's the last leg of the journey when you'll want to avoid dozing off– there are some magnificent views over the Schanfigg Valley. The town has the Obersee and Untersee lakes on each side, surrounded by that rugged mountain scenery we all hold dear in Swi...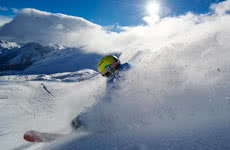 The local slopes are just right for learning on, with a kid's area at Inner Arosa for the youngest beginners. The Arosa Junior Club works with the Swiss Ski & Snowboard School to provide private and group tuition and there are plenty of long, easy-going blues to enjoy. A great run for a confidence boost is the Brüggerhorn Prätschli, which looks over the Obersee and one to aim for by the end of the week is the epic Hintere from the Hörnliexpress top station to lake level in the town. There's a lot of pote...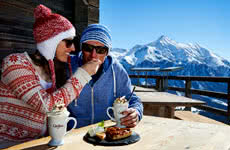 For lunch, try the hearty goulash or macaroni on the panoramic terrace at the Hörnli Hütte at the very top of the Hörnli lift. It's always worth paying a visit to the Maran cheese dairy to watch how the local Alpine cheese is made (and get the ingredients for a Swiss cheese themed picnic later on). Many of the mountainside huts wake up for après come mid-afternoon; soak up the sunshine on one of the hundreds of loungers at the Sattelhütte, or at the Kuhbar at the Tschuggenhütte (we love their BBQ dishe...