Eurostar Ski Holidays


The direct 'London to the Alps' Eurostar route is now firmly established as one of the fastest routes to the slopes, so here's our guide to letting the ski train take the strain. With the option of travelling by day, you'll arrive in the same or less time than flying and not have to worry about excess baggage and ski carriage costs, or your carbon footprint melting our ancient glaciers. Keen-beans like our very own SNOman, will gladly brave "sleeping in a chair" to take the overnight snow train, and get eight days skiing for the price of six! Forget stressful airport check-ins and four hour transfers at the other end, because the French Alpine Stations are right there in the mountains, much closer to the best resorts than any airport.
Ski Train Timetable
London St Pancras International/Ashford International to French Alps
| | | |
| --- | --- | --- |
| Departure Point | Day train (Saturdays) | Night train (Fridays)* |
| St Pancras International | Depart 09:45 | Depart 19:42 |
| Ashford International | Depart 10:28 | Depart 20:28 |
| Moûtiers | Arrive 18:27 | Arrive 05:34 |
| Aime-la-Plagne | Arrive 18:46 | Arrive 05:58 |
| Bourg-St-Maurice | Arrive 19:03 | Arrive 06:17 |
French Alps to Ashford international/London St Pancras International
Departure Point
Day train (Saturdays)
Night train (Saturdays)*
Bourg-St-Maurice
Depart 09:34
Depart 22:12
Moûtiers
Depart 10:14
Depart 22:54
Ashford International
Arrive 15:37
Arrive 06:33
St Pancras International
Arrive 16:13
Arrive 07:16
Note: Trains from the Alps to London/Ashford do not stop at Aime-la-Plagne.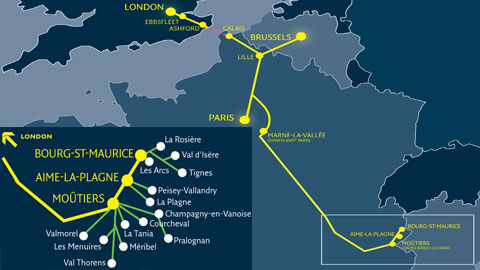 Resort Transfer Times
Transfer times by coach
*Times are estimates & vary depending on traffic & weather conditions.