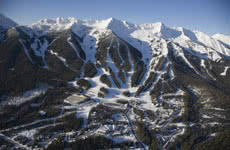 What do you get when a mythical mountain man, born in a grizzly bear's den, fires an enormous musket into the Canadian skies? A whopping annual snowfall of up to 37 feet… So goes the local legend of 'The Griz', the reputed source of Fernie's fantastic snow record. Whatever causes the snow to fall, there are over 2500 acres of terrain on which to enjoy it, and it's not unusual to find you have a run completely to yourself… It's easy to see why Fernie Alpine Resort pipped Whistler et al to the post for ...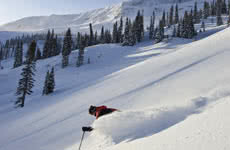 The Lower Mountain seems tailor made for newbies, with the Mini and Mighty Moose areas easing learners and little ones into the basics, under the tutelage of the excellent Telus Winter Sports School (this is also where you'll find floodlit skiing on certain evenings). Improvers can then access some gentle green groomers from the Deer Chair and Elk Quad (including the delightfully named Holiday, Dipsy and Giggly Gully). The intermediate and expert terrain's nicely mixed throughout the area, meaning groups of...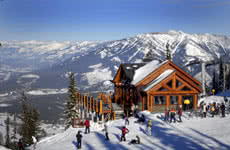 The Griz Bar at the base of the mountain is the place to go after a day on the slopes. Refuel with cold beers and pub grub or ask for their famous "Mogul Smoker" (a magnificent rum and Kahlua concoction). This is also the place of a local tradition called naked table sliding – we'll leave the staff to explain that one! The Lost Boys Café at the top of the Timber Express Chair is the only on-mountain option for a sit-down meal while Bear's Den, an open-air fast-food kiosk is great for a quick pit stop. M...