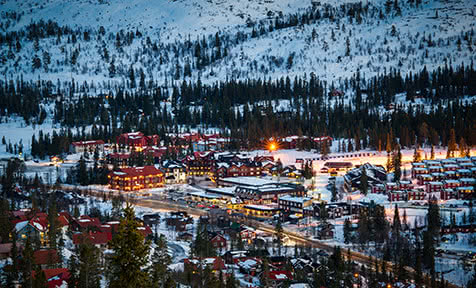 In the beautiful mountains of midwestern Sweden, the Vemdalen resort (pronounce it Vem daal en) is made up of three ski areas and a handful of colourful Scandi-style villages: Vemdalen city, Vemdalsskalet, Björnrike, Klövsjö and Storhogna. Vemdalen City (sometimes called Vemdalen town/village) is the oldest part of the area, with a church dating back to 1763. It has everything the year-round population need, with a cinema and activities including bowling and snowmobiling. It's the only area without its ow...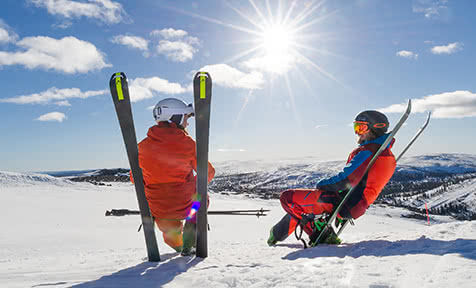 Vemdalen's three ski areas offer a mix of slopes both above and below the tree line and together, Björnrike, Vemdalsskalet and lift-linked Klövsjö/Storhogna form one of Sweden's biggest ski areas. They are all connected by buses, and each ski area has its own beginner's zone. The order of the day is wide, quiet and immaculately groomed runs – ideal for beginners and intermediates, with challenging terrain thrown in to keep experts on their toes. Sunny Björnrike has glorious views of the Sonfjället...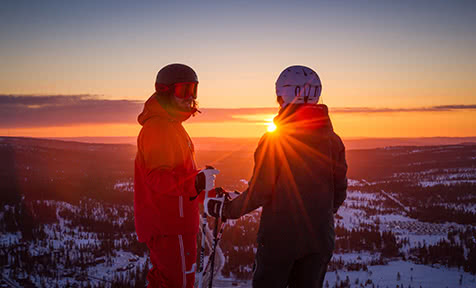 The village of Björnrike has the liveliest mix of bars and restaurants, with favourites including the Grizzly Bar & Grill (great kids menu and tasty fondues) and Brajks Matbar (home cooked food made from locally organic ingredients and après ski from 3pm). One must-do is to take a trip up to Jaktstugan from Vemdalsskalet – this is the hunting lodge, which is otherwise known as the waffle cottage for the delicious waffles you can enjoy. Accessed by snowmobile, skis or 'ferry' (snowcat) from the Vemdalsska...