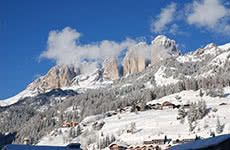 This hidden gem of a village is tucked away at the foot of Col Rodella within the Dolomites. The area is known for having some of the most beautiful scenery in the region including the Sella Massif, famous panettone-shaped Sassolungo and Val Duron with its meadows, woods and stream. Campitello is Val di Fassa's oldest tourist resort as well as one of the smallest and remains unspoilt with oodles of traditional charm. Small, quaint and picturesque, the village is made up of a number of hotels, restaurants and...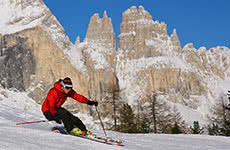 As one of the smaller and less well known resorts in the Val di Fassa, the area is usually free from crowds and is the prime location for intermediate skiers as well as progressing beginners. The main skiing area for the village is Col Rodella, situated just above the resort and a short cable ride from the base. At this higher altitude, skiers and boarders can enjoy a wide variety of terrain on a perfect blanket of snow. As There are two beginner slopes at base level, the Campo Scuola da Faè and the slightly...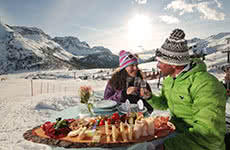 As one of the smaller villages in the Val di Fassa, the après scene is fairly low-key and attracts those wanting laid-back evenings with good food and casual drinks. One of our favourite restaurants is 'Mini' which offers a selection of traditional Italian cuisine. Choose from a variety of meats, cheeses and wines - indulge in their amazing cappuccino ice-cream for dessert. This is ideal for a romantic evening or intimate night with family and friends. For a casual bite head to La Stalla del Nonno, a pizz...