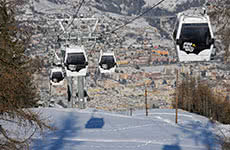 Pila is a small, quiet resort, built for skiing on the mountainside above Aosta town. As well as peering over the lights of Aosta, Alpine giants including Mont Blanc, the Matterhorn and Monte Rosa form the surrounding peaks and forests line the ski runs providing a stunning setting for a week on the snow. A summer destination for its calming and serene mountainside; Pila grew in popularity as a winter getaway over the two world wars and in 1949 opened itself as a purpose built ski resort. With a car-free villa...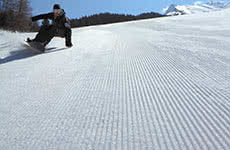 Pila can be the start of a great ski experience with some excellent blues, including the easy to manage Baby Pila. Accessible by the Gorraz Grand Grimond and Pilla Gorraz chair lifts, Grimod is a long, winding blue with stunning views across of the Italian/Swiss Alps, including the Monte Rosa massif. La Nouva descends the right side of the mountain and is serviced by a chairlift of the same name. It's also home to the halfpipe, making it a favourite for young riders. If what you're looking for is red runs an...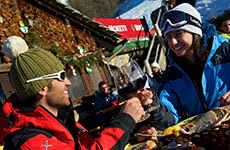 Embracing Pila's low-key and relaxed approach to apres-ski, most skiers are content to see off a day on the slopes with a relaxing hot chocolate or vino in Bar Mion or an ice cream in Bar Nouva. If you fancy catching the last of the rays and watching the sun go down over Mont Blanc, Monte Rosa and the Matterhorn, Bar Yeti is the place to be and also has great food options. Most eateries have a focus on Italian and Alpine classics and what more could you ask for? At the end of the Pre Noir red run, La Montana...