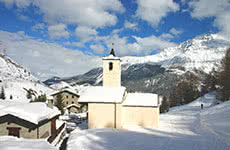 Sitting on the boarder of Italy and France in a vast grassy basin at the western end of the Aosta Valley, La Thuile is a quaint resort sharing its ski domain with the French resort La Rosière. Consisting of both an old alpine village and a modern, purpose built resort, separated by the Dora di Verney river, La Thuile offers a mix of charm and convenience. Knee deep in history, La Thuile's old mountain village dates back to the Roman era and served as a mining town up until WWII. It offers traditional alpi...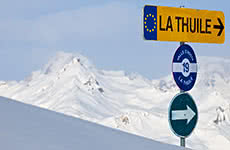 Rendez-vous at the bottom of Les Suches cable car for La Thuile's ski and snowboard schools. From here, new skiers and boarders should take the lift up to Les Suches 2200m, followed by the La Combe chairlift for a cascade of lovely green and blue runs. Don't miss the petite Edelweiss and Piloni blues if you're looking for quiet slopes to practise new skills. At the top of the Chaz Dura lift (which takes you to the ski area's uppermost point at snow sure 2579m) intermediates will find a generous scattering...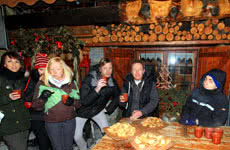 This is Italy and in true Italian fashion, the après ski remains pretty quieto until later on in the evening. Enjoy a long and hearty meal at Maison Carrel for antipasti of traditional meats and cheeses, followed by Italian specials like lasagne and cornmeal polenta. Obviously there'll still be room for pudding, because you won't want to miss out on a home cooked dessert in the form of a chocolate tart and other such delights. Delizioso! For more chocolate drops of heaven, the Chocolat café offers a cosy ...