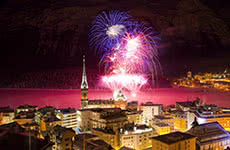 Nestled away in the South-Western corner of Switzerland, sitting in the majestic Upper Engadine valley, you'll find the glamorous resort of St. Moritz. It's easy to see why the town has been attracting the rich and famous for centuries (visitors such as Friedrich Nietzsche, Coco Chanel, Hugh Grant and Kate Moss), with beautiful scenery over the surrounding lakes and pine forests, as well as stunning views of the 4000m peaks stretching into Italy. The area is also famous for its dry and sunny weather, averaging...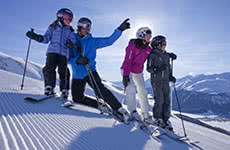 There's a long history of skiing here; the Swiss Ski School was the first ski school in Switzerland and has been running since 1929. Don't let the fragmentation of the resort's four ski areas put you off. Corviglia is big enough to keep many visitors entertained all holiday. It's accessible by funicular from St. Moritz Dorf, or gondola from St. Moritz Bad, with runs back down to both parts of the town. The other areas tend to be wonderfully quiet even in peak season, thanks to the slight extra effort it take...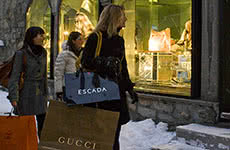 The après-ski in St. Moritz is famous the world over for its classy bars and high-profile clientele; party with royalty at King's Club till sunrise, or go dancing at the stylish Diamond Club. It's true that there's an air of exclusivity, and there are certainly some members-only clubs (ever heard of the infamous Dracula's Ghost Rider's Club?); however there's a real variety of places and you're sure to find somewhere to suit your taste. For something bit more low-key, head to The Devil's Place, a quirky...