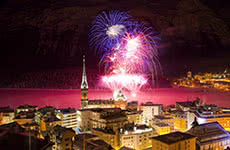 In south-western Switzerland, surrounded by the majestic Upper Engadine valley, sits eternally glamorous St. Moritz. We owe a lot to this resort, which sparked the start of winter tourism – the manager of the Kulm Hotel bet his summer guests they'd love the snowy season, promising to reimburse their stay if they didn't. Naturally they had a ball and have been returning ever since. The biggest names in Hollywood, fashion and everything else have graced the scene over the years, including Audrey Hepburn, H...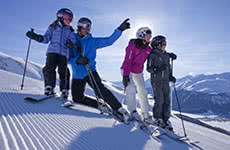 There's a long history of skiing here; the Swiss Ski School was the first ski school in Switzerland and has been running since 1929. Don't let the fragmentation of the resort's four ski areas put you off. Corviglia is big enough to keep many visitors entertained all holiday. It's accessible by funicular from St. Moritz Dorf, or gondola from St. Moritz Bad, with runs back down to both parts of the town. The other areas tend to be wonderfully quiet even in peak season, thanks to the slight extra effort it take...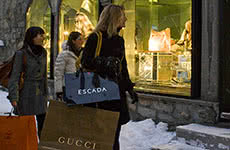 The après-ski in St. Moritz is famous the world over for its posh bars and high-profile clientele – anyone wanting to see and be seen can party with royalty at King's Club till sunrise, or go dancing at the stylish Diamond Club. You can't deny the air of exclusivity, and there are certainly some members-only clubs (ever heard of the infamous Dracula's Ghost Rider's Club?) but that's not to say anyone seeking a low-key atmosphere will be let down. The Devil's Place is a quirky bar with a record breaking 2...