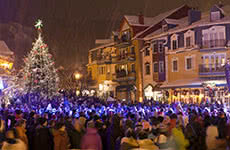 While the surrounding Laurentian Mountains haven't changed for millennia, the resort had an Alpine-style facelift in the early nineties, an enormous success. Tremblant has won the title of 'Best Eastern North American resort' from Ski Magazine countless times. Catch the Cabriolet lift for a fantastic birds-eye view of the car-free village, which looks like nowhere else on earth at the foot of the Tremblant Mountain. Best described as the skiing world's endearing answer to Disneyland, Tremblant consists of c...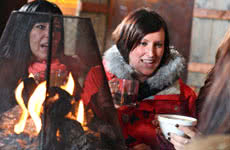 The ski area's spread over four different sides: Versant Nord (the North Side) and Le Edge, then Versant Sud (South Side) and Versant Soleil. We love that green, blue and black runs are mixed throughout, so everyone can enjoy the full area. Many of the runs are graded as advanced, like Cossak, but in Europe would be classed as a red. In Versant Nord, the Expo chairlift takes you halfway up to a few blues, blacks and the lovely "Sissy Schuss" green. Hop on the Duncan Express for direct access to the top, ...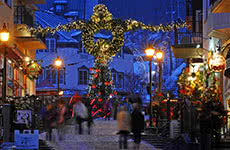 Le Shack is excellent for an après ski quencher – and on warmer days, the live music outside really adds to the atmosphere. La Diable's home-brewed beers and hearty comfort food also go down a treat after a long day on the hill. If you're craving some French favourites, Creperie Catherine has a terrific menu, and La Savoie provides the all-important ski holiday fondue and raclette. There's no shortage of Canadian specialities - anyone with a sweet tooth absolutely must try maple taffy (a lollipop made ...