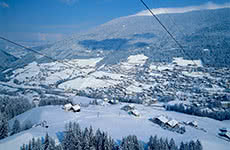 On the Austrian side of Northern Italy, Ortisei has a mix of Italian and Austrian influence and is known as St. Ulrich by the Germans and Urtijei by its Ladin speaking locals. The friendly, full-of-life Italian culture meets hard-working, sport-loving Austrian ethos here, creating a town that's architecturally beautiful and lively. With views of the Rasciesa Mountain to the north of the town, Seceda to the east and Col de Mesdí, Alpe di Siusi and Piz to the south, the Dolomite surroundings are absolutely am...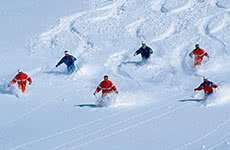 The local ski area is actually split into two separate areas, one to the south and one to the north: the first is Alpe di Siusi / Seiser Alm and the second, Val Furnes, joins to the pistes of S. Cristina. First timers usually start off in to the Monte Pana and Plan da Tieja beginner zones, complete with a magic carpet and fun characters and tunnels for children. From S.Cristina you can take the cable car to the top of Col Raiser for a lengthy blue that provides plenty of opportunity to practise new skills. ...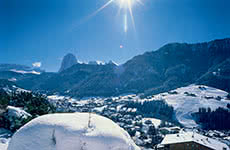 We wouldn't be British without our afternoon tea, and we love the Italian twist on this tradition at the Villa Frainela Tea Rooms, where you can enjoy the likes of apple strudels, Tyroleon bacon and cheese quiches. The Tubladel restaurant reflects the multi-national spirit of this resort in dishes influenced from specialities all over the world. Batie Sofie is at the top of the slopes, offering a super view over the glistening slopes when the sun is shining. Enjoy a glass of Italy's finest local wine with a ...