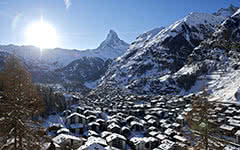 Zermatt belongs to Switzerland's Valais canton, which rubs shoulders with the Italian Alps. You'll find it surrounded by nearly a third of Europe's 4000m peaks and - most notably - right at the foot of the Matterhorn. Even if you haven't heard of this mountain, chances are you'd recognise it - national landmark of Switzerland, inspiration for the Toblerone and a peak photographed more than any other. Besides blow-your-beanie-off scenery, these mighty mountains come with a cool climate, ever-white glac...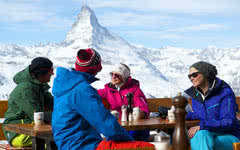 There are 200km of runs in the local area alone and a massive 360km overall if you count the Italian side of the Matterhorn too. Together with Cervina, Zermatt forms the 'Matterhorn Ski Paradise' where SNO lovers of all abilities are blessed with high altitude terrain - and lots of it! Everyone's a winner in a ski area this big and brilliant, but if we had to pick where it really shines, we'd say it's especially fantastic for intermediate and advanced level skiers and snowboarders. If you're a keen begi...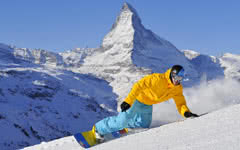 Zermatt was voted the world's best après ski resort by the World Snow Awards in 2012, making it a wise choice if you want a whale of a time post-skiing. Sure – it doesn't come cheap, but if you want quality, you won't find better. Across sixty bars and numerous nightclubs, you can relax, unwind and party through the night. Harry's Bar is the place to dance to cheesy pop and Papperla offers a pubby atmosphere but you can't come to Zermatt without being tempted into the Hennu Stall (at the end of the Fu...