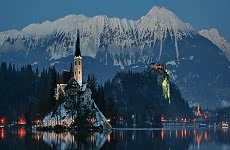 Bled has to be one of the most beautiful places we've ever seen. First off, there's tiddly Bled Island, where a cluster of buildings and trees huddle under a tall Gothic church. Then there's the glacial lake that surrounds it – deep blue in the summer and frosty white in the winter. Not forgetting the mountains that surround the lake, the Julian Alps with their forested foothills and jagged peaks. Of course you've also got the town, set along the lakeside with medieval Bled Castle up on the clifftop, where ...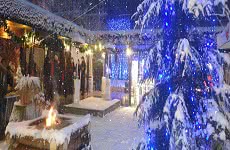 The Straža chairlift was the first in Slovenia, and opened in 1954 after WWII – a decade later it was joined by the rope tow on Mala Straža. Both have been replaced since to keep up with the latest technology. Straža hill is fitted with snow cannons and floodlights for good quality skiing day and night. Once you've got an eyeful of the view over the lake and mountains from the top, a single blue run zig zags down the hill, passing a drag-lift served green. There's the option to connect to a more chall...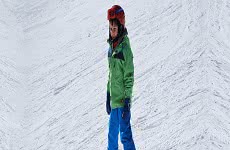 Pub Bled is a favourite watering hole looking over the lake, with good priced pints and a long list of cocktails and other drinks. In the food department, the ultimate post ski snack here is Bled cream cake, which has been enjoyed for decades – try the original recipe at the Park Restaurant and Café. The Bled Castle restaurant has incredible views and a modern Slovenian menu – usually if you pre book your table you'll also get entry into the castle. ZaZiv does veggie and vegan food in a groovy, rustic l...