There are many reasons why a self-drive ski holiday may be on the cards for future ski seasons: to save money, to save hassle, to save the planet, and now that we are living in a Covid world, to avoid crowds and close proximity to others at airports and on shared transfers.

Self-drive ski holidays can allow for more flexibility on your trip as you are not constrained by set 7-night packages and you can travel at your own pace and in the comfort of your own car. You also have the freedom to stop off at some fantastic places along the way, break for coffee as many times as required and even extend your holiday to see more of the country you are visiting. You will of course also have access to your car during your stay meaning you can visit other nearby resorts, slopes and restaurants.

Self-drive ski holidays do take slightly longer than flying but when you break it down to: getting to the airport, parking, checking in luggage, hanging around for your flight, the flight itself, passport control, collecting luggage and your coach transfer to resort you are usually looking at around 7-9 hours. Driving can take as little as 8 hours depending on your chosen resort and then factoring in how many times you opt to stop and if you choose to add an overnight stay en-route to your destination. We would recommend taking the Eurotunnel over the ferry as the Eurotunel Le Shuttle takes you from Folkstone to Calais in 35 minutes. Ferries take a few hours and although they are slightly cheaper, they can induce seasickness and add unnecessary travel time to your journey.

We have decided to collate for you a top 10 list of the best self-drive ski resorts from the UK. This list factors in the closest ski resorts to drive to from UK, the easiest ski resorts to drive to as well as great places to stop en-route and in-resort parking details. These options are all based on the driving time from Calais, so do not forget to factor in the 35-minute Eurotunnel or 2-hour ferry, and the time it takes you to get to Folkstone.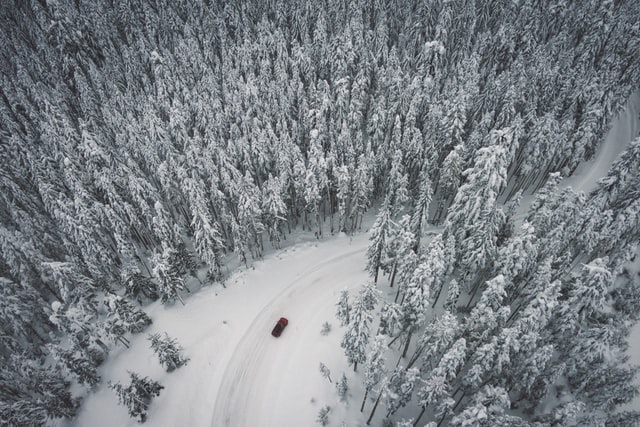 Best self-drive ski resorts
Chamonix, France
Chamonix is a lively resort with plenty to offer, the terrain here is more challenging than a lot of the other French resorts, so it is recommended more for experienced skiers. The ski area offers 410km of skiing, and 90% of the slopes are above 2,000 meters offering a fantastic snow record. There is only free parking in Chamonix for under one hour. However, there are several indoor and outdoor car parks for you to pre-book if your accommodation does not offer onsite parking.
8-hour drive from Calais, 890km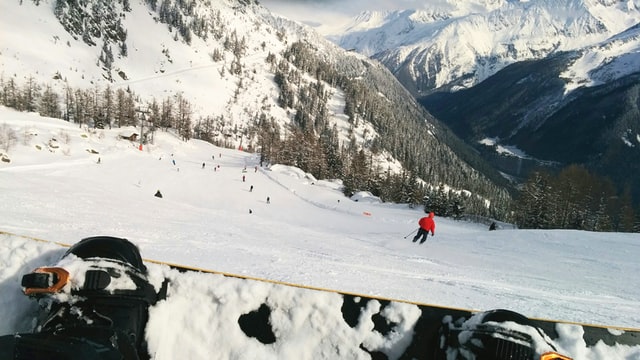 La Clusaz, France
La Clusaz is a beautiful village set in the Aravis mountain range offering 210km of skiing. Green and blue runs are abundant here, making it a perfect family resort and a great place to learn or build your confidence. There is a good selection of indoor and outdoor car parks in La Clusaz, but it is important to pre-book on the resorts own website.

8-hour drive from Calais, 860km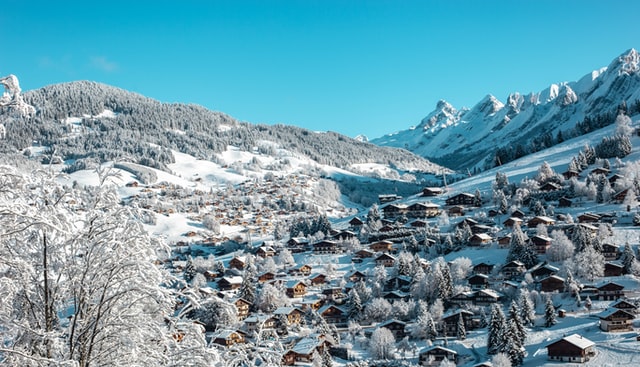 Flaine, France
Flaine is a friendly and family-orientated resort set in the heart of the Grand Massif Ski Area. There are many wide-open runs to be found in Flaine with plenty of cruisy blue slopes available. The ski area offers 265km of slopes and plenty to do in resort including Tobogganing, Dog Sledding, Ice Rink, Cinema and local swimming pool. Flaine resort centre is pedestrianized however you can unload your car at your accommodation for 1.5 hours between 7 pm-3 am. There are then several car parks available at each resort level, most of which are chargeable per day in resort.

8-hour 30 Minute drive from Calais, 880km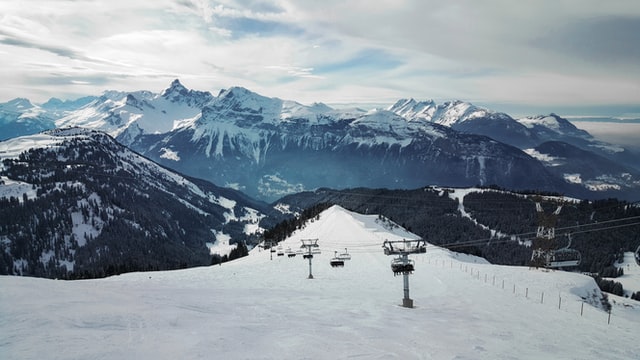 Morzine, France
The picturesque village of Morzine is a fantastic family-friendly resort set in the Portes du Soleil Ski area offering a huge 650km of skiing. There is a free long stay car park as you head out of Morzine on Route de la Plagne with a free shuttle bus to and from resort however during high season this will almost always be full. There are several car parks more central to resort that you can pre-book if your accommodation does not offer onsite parking.

8-hour 30 Minute drive from Calais, 870km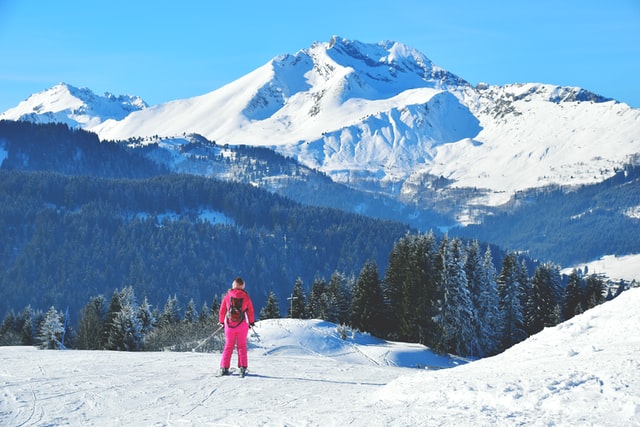 Courchevel, France
Courchevel is a fantastic resort based in the Three Valleys which is one of the largest ski areas in Europe with around 600km of skiing on offer. The roads are typically gritted very well on the way up to resort and there are 11 covered car parks in the Courchevel valley with 2000 spaces available, we would recommend pre-booking a space or double-checking with us whether your accommodation has onsite parking available.

9-hour drive from Calais, 965km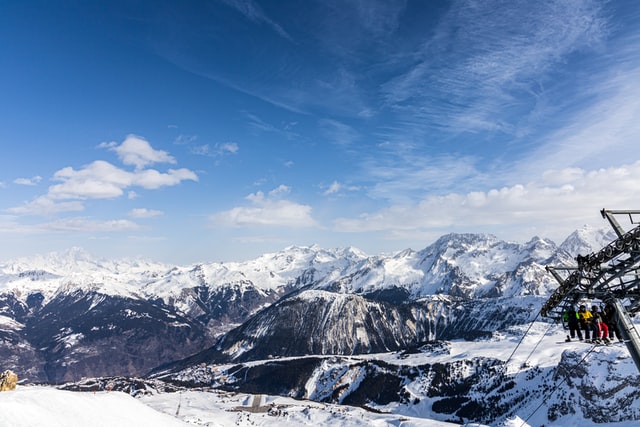 La Plagne, France
The resort of La Plagne is situated within the Paradiski area offering 452km of well-connected slopes and is capped by the Bellecote glacier. La Plagne is made up of ten different villages each of which offers a unique feel and accommodation theme, most of the traditional chalets can be found in La Plagne 1800 whereas La Plagne Soleil offers some fantastic ski in ski out self-catering apartments. There are plenty of car parks available to pre-book, you'll need to spend some time locating the most convenient car parks to your accommodation – you can do so on the resorts helpful web page.

9-hour drive from Calais, 956km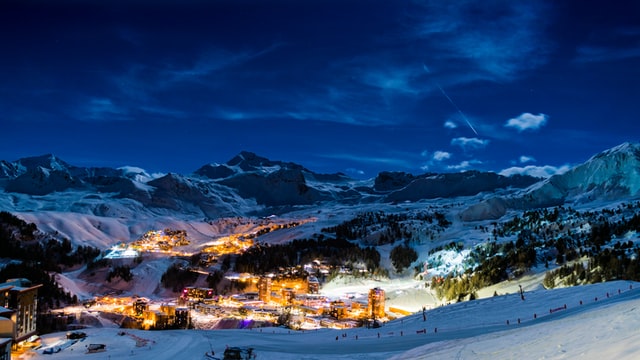 Alpe d'Huez, France
Alpe d'Huez is a fantastic all-round resort sitting nice and high with a resort height of 1,860m and a top lift height reaching 3,300m on the Pic Blanc Glacier. There is plenty of varied pistes spread across the 249km of slopes suitable for all abilities, and Les Deux Alpes is only a short 45-minute drive away which will be easily accessible with your own car. There are plenty of parking options in Alpe D'Huez including some free car parks, if you do not want to risk a space being available when you arrive in resort then there are some really good value pre-bookable car parks.

9-hour drive from Calais, 930km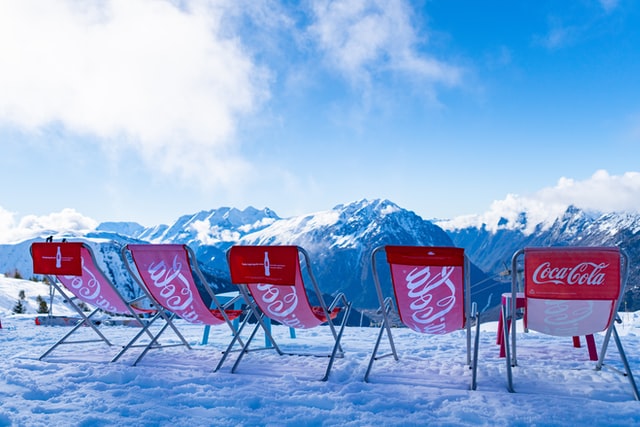 Tignes, France
Tignes is a great ski resort set in the Espace Killy ski area and is connected to the resort of Val D'Isere. 300km of slopes are on offer in the Espace Killy area with 88 blue runs, 40 red runs and 26 black runs. Tignes is a purpose-built resort so is not as pretty as some of the more chocolate-box French resorts but on top of the vast ski area it does offer some fantastic nightlife and non-ski activities such as parapenting, bowling, fitness centre, husky sledding, ice skating and ice diving. Tignes is made up of different areas so be sure to check your accommodation location before choosing your pre-bookable car park.

9-hour 30 Minute drive from Calais, 995km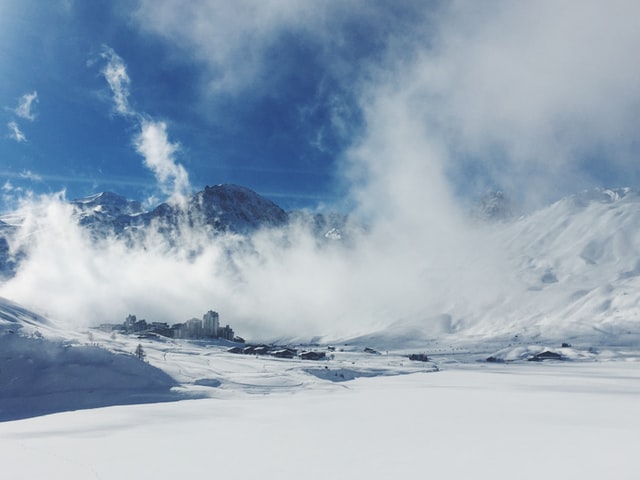 Best places to stop en-route to the French Alps
Most of the routes to the French Alps follow a similar path for the first 80% or so of the journey. A few nice places to stop along the way are:
The quaint village of Arras which has a cute little market square and some lovely restaurants
The city of Saint-Dizier would be a lovely place to stop and stretch your legs and take in some fantastic architecture
The town Chaumont is worth a visit to see the stunning viaduct, if you do stop here make sure to take a wander around the picturesque old town.
Mâcon is a must for any wine lovers and there are several beautiful Châteaus to see and a visit to the Cluny Abby
Grindelwald, Switzerland
If you wanted to self-drive to somewhere outside of France, then Grindelwald in Switzerland would be a great choice. Do bear in mind though that the more country borders you cross the more time you will need to add to your journey. Driving across the borders late at night can greatly help reduce this time. Grindelwald is a traditional Swiss village set at the foot of the impressive Eiger Mountain in the Jungfrau ski region. Not only does Grindelwald offer 210km of spectacular skiing slopes there are also some incredible Winter Walking and cross-country trails. Parking in Swiss resorts is a lot harder than parking in the French Alps, options are much more limited with only a small number of pre-bookable car parks. Lots of the hotels in resort have onsite car parks for guests but you need to pre-book in advance to secure a space.

9-hour drive from Calais, 890km
The Dolomites, Italy
The Dolomites offers up 1,220km of skiing in what is the world's largest ski network. There are 366km of blue runs, 732km of red runs and 122km of black runs – plenty to be explored during a week's visit. With it being such a vast area there are hardly crowds or queues as everyone is so spread out. Top resorts within the Dolomites include Selva, Arabba, Corvara and Cortina. Journeys to the Dolomites can be great by car, as the Autobahn in Germany is not only without a speed limit but also without tolls. Make sure you factor this in when deciding on a cost-effective route. Parking in the dolomites does vary from resort to resort to be sure to check online before travelling as to whether there are free spaces to be found or if you need to get pre-booked.

12-hour drive from Calais, 1,150km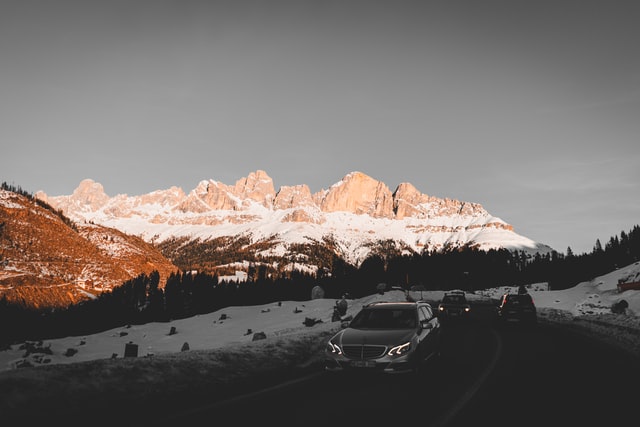 Top tips for self-driving ski holidays
Driving out to resort means that there are no luggage restrictions or weight limits; however, do bear in mind that clothes and ski gear take up much room so we would recommend using vacuum bags. A roof box or special rack is also a great way to maximise space, especially if you are bringing your own skis or snowboard. There are also some useful items that you may need when driving abroad and on winter roads– these include:
Snow chains / Socks – best to check what is legally required in your specific resort
Snow Tyres may be useful depending on the time of year you are travelling
Self-Breathalyser Kit – mandatory for France
2 pairs of driving glasses if you need them
A shovel to dig your car out after your holiday
GB sticker for the bumper of your car – mandatory in the EU
2 warning triangles, high vis jackets (1 for every passenger), spare bulbs and headlight converters
Do please check our Driving to the Alps page for further details and to check the full list of items that are compulsory.

In terms of the actual driving, there are plenty of things to consider before you leave. You should probably be a confident driver as driving on snow and ice, even though the roads are often gritted, is not an easy task. If you know you are not the best driver, make sure to be travelling with someone who is – or at least thinks they are! Check the road rules; it is KM/H, not MPH out there, make sure you understand foreign signage and do not forget that other countries tend to drive on the wrong side of the road! Make sure you get a vignette for the motorway tolls, as they not only reduce the price but speed up your journey at the toll booths. Check your car insurance will cover you for the period abroad and it is best to have a wallet with all of your relevant paperwork: Insurance Certificate, driving license, both the license and the paper part and bring your V5C.
View 2021 ski holidays & 2022 ski holidays