Mount Everest is the world's tallest mountain, standing at a colossal 8,848 m. It straddles the border between Nepal and Tibet, set in the Himalayan range. This mountain is a brutal force of nature, dispersed with giant ice walls, hidden crevasses, deadly avalanches, and extreme altitudes that will dull your senses. Still, nothing will compare with the feeling of reaching the summit and being on top of the world.
A few brave adventurers will challenge themselves with the ferocious ascend to the summit, very few attempt to ski back. With it being double the height of the Matterhorn – one of the largest mountains in the Alps, skiing down Mount Everest would be the ultimate challenge. With the barren conditions commonly found on Everest summit, is it possible to descend this mammoth mountain on a pair of skis?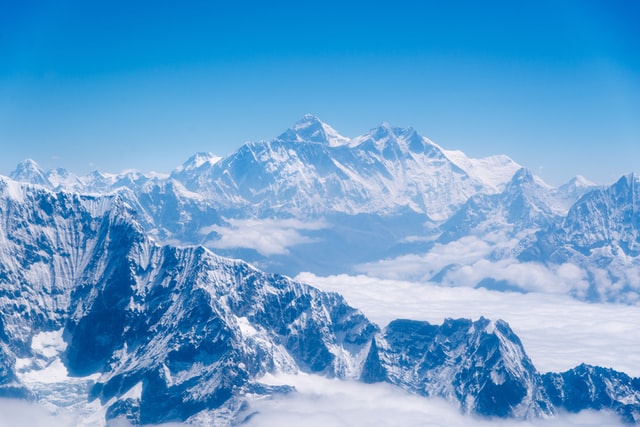 Everest ski facts
Height- 8848m / 29,016 ft
Wind speeds get up to 200 mph
Temperatures can reach -80 F
Mount Everest grows 40cm per century
July is the snowiest month on Mount Everest- Averaging 6.8 snow days per week
It is capped with snow and ice all year long- from 5800 m
May – June is the best time to ski Mount Everest- Warmer and less windy
Can you ski on Mount Everest?
Technically, it is possible to ski down from the summit of Everest. A few trailblazers have taken on this epic descent and succeeded. Naturally, skiing down Mount Everest could not be achieved without significant difficulties.
Has anyone skied Mount Everest?
Yuichiro Miura
A Japanese alpine skier called Yuichiro Miura attempted his descent in 1970. He was famously known as 'the man who skied down Everest,' the title of the gripping Oscar-winning film documenting his journey on Everest. Encore captured his extreme descent from the south Col section of Everest at 8082 m, surrounded by nothing but sheer ice. In an attempt to control his speed, Miura opted to deploy a parachute. The summit, considered the most desolate place on earth, a strong galeforce and combined thin air was not favourable conditions for a parachute and proved ineffective. Miura, off-balance, fell helplessly down towards a vast crevasse, an unfathomed canopy of ice that cut across the face of the mountain. Close call, but fortunately, he came to a stop and completed his bumpy 4,200 ft vertical descent in 140 seconds, down to 6200 m.
Davo Karnicar
Davo Karnicar, a Slovenian extreme alpine skier, took it a step further. Karnicar embarked on Everest's south face in 2000, after a failed attempt on the north face four years earlier, resulting in losing his index and little finger to frostbite. Back stronger, Karnicar streamed his descend live via a webcam on his helmet to over 4 million people, which helped fund the 70,000 USD for his permit. Karnicar accomplished his goal to be the first person to ski down from the summit to the base camp without removing his skis. He descended over 3500 m in 4 hours and 40 minutes, an extraordinary feat that will be difficult to repeat.
Andrzej Bargiel
A polish skier, Andrzej Bargiel, had sights firmly set on conquering Everest and the ambition to surpass Davos Karnicar's accomplishment. Skiing down from the summit without oxygen assistance is a feat that has not been attempted, let alone achieved. His first attempt was aborted in 2020 due to a dangerous hanging block of ice; he will retry in 2021. Bargiel has a solid track record of high altitude skiing, impressively becoming the first man to descend the 6811 m tall K2 peak. The pilgrimage was described as immensely treacherous, rocky, with patchy snow. But he remarkably managed the whole descent without removing his skis.
Discover more: Best resorts for expert skiers & snowboarders and best snow-sure ski resorts.