Whilst we can't ski or snowboard right now, that doesn't mean we can't enjoy our favourite alpine grub. Bring the mountains to your dining room with our super easy cheese fondue recipe. Après wear and Oktoberfest playlist optional.

This recipe is perfect for celebrating a special occasion such as a birthday, anniversary, Valentine's Day or Cheese Fondue Day on the 11th of April.

There is no need to fear if you aren't a good cook as making fondue is shockingly easy – you just need to chop, grate and stir. The top tip for making a good fondue is using good quality cheese. If the cheese isn't matured correctly, it may not melt completely and make the mixture lumpy rather than smooth. Splashing out on a more expensive cheese will be worth it.

Emmental and Gruyère are the best cheeses to use in a traditional fondue, but Raclette, Comté, Camembert, Beaufort and Vacherin all work well. Our favourite is a blend of Swiss cheeses, reminding us of being on top of a mountain in France or Switzerland after a fun day of skiing.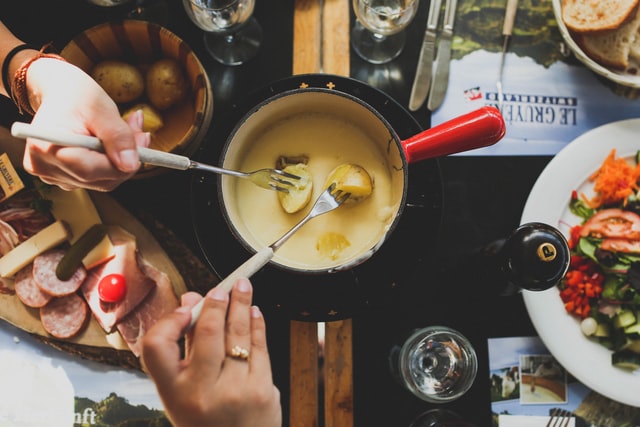 Classic Fondue Recipe – serves 4
Fondue Ingredients
300 g grated Gruyere cheese
300 g grated Emmental cheese
1 tsp lemon juice
1 tsp cornflour
400 ml dry white wine
Pinch of nutmeg
Pepper for seasoning
1 clove of garlic, halved
Finally, don't forget a good dipping list of your favourites like cold meats, potatoes, broccoli, carrot, gherkins, peppers and of course the classic must-have cubed French bread pieces (get the bread a couple of days early so it can be hard and slightly stale, so it will hold together on your fondue fork).
How to make the cheese fondue
Making a fondue at home is a lot easier than it looks! Our recipe takes about 15 minutes to make and serves 4 people.
Rub the inside of the fondue pot with the garlic and, if you like your garlic, just leave the clove in there.
Grate the cheese and make sure it's at room temperature rather than straight from the fridge.
Pour the wine and lemon juice into a pan and heat until its almost simmering, but don't let it boil.
Gradually add the grated cheese to the pan, while mixing to ensure it melts into the wine. Be careful the mixture doesn't boil. In a separate bowl, mix the cornflour with 2 tsp. of water. Then slowly stir in the mixture to the fondue.
Season the fondue with nutmeg and pepper, stir well.
Pour the cheese fondue into the fondue pot and serve on a gentle burner.
Using fondue prongs or forks, dip your bread and into the cheese. Remember to stir it occasionally, to move any burnt cheese off the bottom of the pot. Bon Appetit!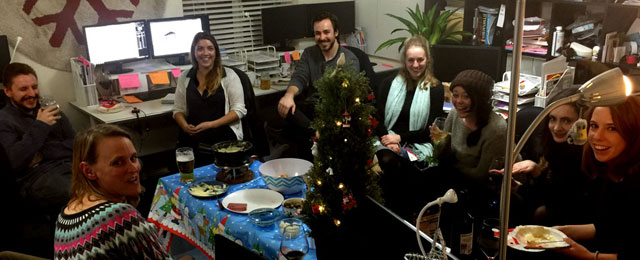 Can't wait for your next ski holiday? Check out our 2022 ski deals.